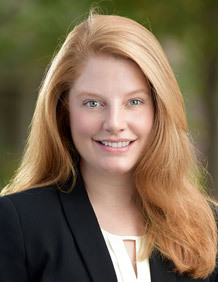 MOLLY
BALLARD
PARTNER
Colorado
(303) 962-2690
molly@richardscarrington.com
AREAS OF PRACTICE:
Civil and Commercial Litigation
ADMISSIONS:
State of Colorado 2010
U.S. District Court, District of Colorado
MEMBERSHIPS & AFFILIATIONS:
Colorado Bar Association
Denver Bar Association
AWARDS:
Best Lawyers: Ones to Watch 2021
EDUCATION:
Juris Doctorate from Boston College Law School – 2010
B.A. University of Colorado Boulder – 2007
CLERKSHIP:
Clerkship for Judge Catherine A. Lemon of the Colorado 2nd Judicial District Court
View the transcript.
A Colorado native, Molly is a partner in the firm's Denver office, focusing on civil and commercial litigation.
Prior to joining Richards Carrington, Molly served as in-house counsel for a federal savings bank, advising the firm on its consumer lending and financial products and services. While there, she was instrumental in the successful operation of a strategic credit card partnership, whereby over $2 billion in receivables was acquired by one of the nation's largest banks. Molly managed all of the bank's litigation, including disputes arising under the Truth in Lending Act, Fair Credit Reporting Act, Fair Debt Collection Practices Act, and Telephone Consumer Protection Act. Molly also oversaw the escalated complaint process with state and regulatory authorities, including the Consumer Financial Protection Bureau, and she led remediation efforts due to audit findings, control reports, and other internal or external discovery.
Early in her career, Molly joined a national law firm as an associate in the consumer financial services and litigation group. Working on both compliance and litigation, she had a broad portfolio with a wide range of matters—from mortgage loan originators and loan servicers to investors in class actions, individual lawsuits, contested foreclosures, and bankruptcy proceedings.
Molly received her Juris Doctorate from Boston College Law School. Molly earned a degree in accounting at the University of Colorado Boulder, with membership in the Beta Gamma Sigma National Honor Society. During law school, Molly was active in the law school's Civil Litigation Clinic. In addition, she spent a semester in London, England, working in the Corporate and M&A group at Freshfields Bruckhaus Derringer and studying international law and business at King's College.