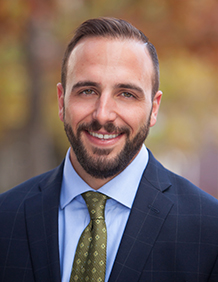 DREW EDDY
PARTNER
Colorado
(303) 962-2690
drew@richardscarrington.com
AREAS OF PRACTICE:
ADMISSIONS:
State of Colorado, 2010
Colorado Supreme Court
U.S. District Court, District of Colorado
MEMBERSHIPS & AFFILIATIONS:
AWARDS:
Super Lawyers Rising Stars 2020
Best Lawyers: Ones to Watch 2021
EDUCATION:
University of Denver J.D. 2010
Went Regis University from 2003-2007

"As a former prosecutor, I recognize and appreciate that a criminal defendant's right to a trial by jury is the fundamental check on the government's otherwise unconditional power. As Thomas Jefferson observed, trial by jury is "the only anchor ever yet imagined by man, by which a government can be held to the principles of its constitution." With that in mind, I draw upon my extensive prosecutorial experience in every case to prepare for trial from the outset, to develop legal defenses that expose weaknesses in the government's case, and to simultaneously maintain effective negotiations with my adversary to yield the best result possible for my client."
View the transcript.
Prior to joining Richards Carrington as a criminal defense attorney, Drew Eddy served as the lead prosecutor for the Denver District Attorney's office. While there, Drew was responsible for the prosecution of 500 felonies, including homicides and other high-level crimes, as well as 3,000 misdemeanor offenses.
From intake to final disposition, Drew's portfolio of felony prosecutions included: murder in the first degree; attempted murder; first and second-degree assault; sexual assault; kidnapping; arson; and aggravated robbery.
Drew was personally responsible for the prosecution of hundreds of felony drug charges relating to the manufacturing, sale and distribution of narcotics in Denver. Drew also prosecuted numerous cases relating driving under the influence of alcohol and/or drugs; often relying on blood and breath testing evidence, he successfully tried many of these cases before a jury.
Drew also prosecuted misdemeanors including third-degree assault including domestic violence matters, unlawful sexual contact, indecent exposure, and careless driving resulting in injury and death.
During his tenure at the DA's office, Drew tried more than 50 felony and misdemeanor and felony cases before a judge or jury—while also going before the court for innumerable pretrial matters such as preliminary, bond and motions hearings.
His close work with law enforcement regarding case intakes, filings, and search warrants, provided Drew with valuable insight into the inner workings of law enforcement and prosecutor offices in Colorado.
Now in private practice, he draws on his extensive prosecutorial experience to develop legal defenses that expose weaknesses in the government's case and to simultaneously maintain effective negotiations to yield the best result possible for his clients.
Drew is licensed to practice law before all Colorado County and District courts, the Colorado Court of Appeals and the Colorado Supreme Court.