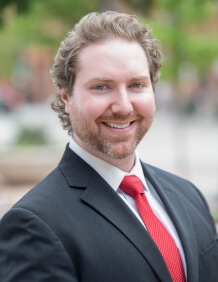 CHASE THOMPSON
OF COUNSEL
Colorado (303) 962-2690
AREAS OF PRACTICE:
Criminal Defense
Civil Litigation
ADMISSIONS:
State of Colorado
State of Kansas
State of Wyoming
U.S. District Court, District of Colorado
MEMBERSHIP & AFFILIATIONS:
Colorado Bar Association
Colorado Criminal Defense Bar
Kansas Bar Association
Wyoming State Bar
EDUCATION:
University of California, Hastings College of the Law (J.D., 2016)
University of Colorado at Boulder (B.A., 2011)
Chase has had the privilege of serving clients in private practice for his entire legal career. Focusing on both criminal and civil litigation, he has handled numerous cases as sole or lead counsel ranging from the defense of drug felonies, sex offenses, and weapons charges to civil matters involving estate litigation and more "run-of-the-mill" commercial disputes.
The diversity of Chase's caseload keeps him in the courtroom regularly and allows him to approach each new case with the insight, knowledge, and creativity that clients' modern legal needs require. Some of his past successes include:
Complete dismissal of case in which client's charges had been elevated to a Level 1 Drug Felony—which carried a mandatory minimum prison sentence of 8 years—due to the client having been deemed a "special offender" for allegedly possessing a firearm during the commission of a drug offense. After successfully arguing that the government's search of the client's property was illegal, all evidence against the client was suppressed, forcing a dismissal of all charges.
Complete dismissal of felony case involving charges of second-degree assault and menacing by use of a deadly weapon (with allegations of domestic violence as a sentencing enhancement) by deploying an aggressive defense strategy alongside persistent negotiations with the prosecution.
Court-ordered dismissal of DUI charge after successfully arguing that law enforcement had violated client's rights under Colorado's Expressed Consent Statute and that dismissal was the only appropriate remedy for the government's violation.
Negotiated dismissal of weapons charge for client's alleged "prohibited use of a firearm" after thorough investigation and research into the law's applicability (or inapplicability) to factual allegations of client's case.
Full summary judgment awarded in favor of defendant-clients on claims of fraud, negligence, breach of contract, and breach of warranty involving the sale of real property, which would support an award of attorney fees to client.
Summary judgment awarded in plaintiff-client's favor for the recovery of three times the amount of client's actual damages, plus attorney fees, in commercial dispute over opposing parties' nonpayment for client's services.
Born and raised in northern Colorado, Chase earned his undergraduate degree from the University of Colorado at Boulder before attending the University of California, Hastings College of the Law, for law school. He is admitted to practice law in Colorado, Kansas, Wyoming, and the U.S. District Court for the District of Colorado.