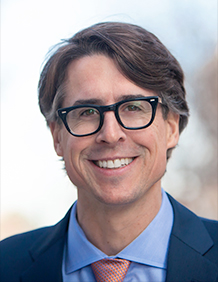 CHRIS
CARRINGTON
PARTNER
Colorado
(303) 962-2690
chris@richardscarrington.com
AREAS OF PRACTICE:
Civil and Commercial Litigation
ADMISSIONS:
State of Colorado, 2005
State of New York, 2015
U.S. District Court, District of Colorado
U.S. Court of Appeals, Tenth Circuit
United States Supreme Court
MEMBERSHIPS & AFFILIATIONS:
Faculty of Federal Advocates, Member
Colorado Bar Association
New York Bar Association
AWARDS:
Super Lawyer Rising Star 2013-2017

View the transcript.
With a Martindale-Hubbell rating of "Preeminent," former state prosecutor Chris Carrington has litigated cases throughout the country—including Colorado, New York, Florida and California—and he's prevailed in numerous multimillion-dollar lawsuits. Recognized as a "Rising Star" each of the last five years, a distinction limited to 2.5% of Colorado's practicing attorneys under the age of 40, Chris is one of the nation's best in post-judgment litigation, with several clients having received an astounding 100% collection on multimillion-dollar judgments.
As part of his financial industry practice, for the past six years, Chris has served as litigation counsel to the Lehman Brothers estate. Chris also represents master loan servicers in disputes involving the rights and remedies of certificate holders and securitization trusts.
In his nationwide post-judgment litigation practice, he locates corporate-debtor assets, investigates fraudulent transfers, and assists parties in recovering from substantial judgments.
While a master trial lawyer, having served as the first chair in more than 40 jury trials, Chris is also known for quick disposition of cases; he regularly wins federal litigation with motions for summary judgment.
In addition to financial institutions, Chris' clients include a range of other entities including law firms, demolition companies, craft breweries and agricultural operations. Chris has also represented clients in enforcement actions against the State of Colorado and the Attorney General, and he's been involved in False Claim whistleblower litigation.
Chris is licensed in Colorado, New York, and the federal courts. In addition to his trial work, he has argued before the Colorado Supreme Court and the Colorado Court of Appeals.
Some of his successes include:
Represented investment bank in a fraudulent transfer investigation in California federal court, resulting in the collection of 100% of the client's multimillion-dollar judgment.
Represented bank in pursuit of a collection on New York state court judgment, resulting in a collection of 100% of judgment and interest.
Represented two law firms and a title company as lead trial counsel in defense of governmental enforcement action, resulting in denial of government's request for award of more than $3.7 million in restitution.
Represented demolition company as lead trial counsel in pursuit of negligence claims against subcontractor that caused more than $1 million in damages, resulting in verdict in favor of client.
Represented loan servicer in contract litigation in Colorado federal court, resulting in summary judgment in client's favor.
Represented investment bank in contract dispute in New York federal court resulting in summary judgment in client's favor.
Represented loan investor in contract dispute in California federal court, resulting in summary judgment in client's favor.
Represented whistleblower in false claims action against prominent defense contractor.
Represented clients in lawsuit filed in the British Virgin Islands by clients' former law firm, resulting in successful resolution of all claims.
Represented local news personality and news station in disputes related to civil rights claims, reaching result in client's favor.